Investing in health and wellness is an investment that will always pay off. Yoga is one of the best ways to better your overall well-being, as it offers both physical and mental health benefits. With prices reaching over $20 a class, however, why is yoga getting so expensive?
Yoga is so expensive because of many factors, including the price of real estate, hiring experienced instructors, offering luxury amenities, and a competitive market. While there are benefits to taking in-person classes, you can also practice at home for free with many free classes available online.
This article will take a closer look at these factors, as well as why paying for an in-person yoga class may be an investment worth making. Lastly, it will explore cheaper options for practicing yoga without breaking the bank.
Why Yoga is So Expensive
While yoga is more popular than ever, it's also becoming more expensive than ever. In fact, The Atlantic suggests that the monthly membership fee for a yoga studio is roughly the cost of a week of meals for the average American. So why exactly are these classes so expensive, especially if they don't involve fancy machines or special equipment? Let's take a closer look at some of the factors in yoga's relatively high price tag.
Popularity
Sometimes it can feel like everyone you know is doing yoga. While that's not exactly true, yoga has become exceedingly popular. In 2016, a Yoga Alliance study found that over 36 million people had practiced yoga in the previous year and 90% of Americans had heard of it. Even more telling, perhaps, is that this number is up 20 million from 2013, showing that yoga is gaining popularity incredibly quickly.
The study also showed that most people had been practicing for less than five years, further underlining the newness of yoga in the US. Accordingly, this fresh new exercise attracted many high profile fans looking to be on the cutting edge of health and wellness. While yoga itself is an ancient art, it's only in recent years that we've seen American celebrities, athletes, and influencers talking about its benefits and showing off their yoga-toned physiques.
An entire industry has sprung up around yoga, with yoga retreats, fashion brands like Lululemon, and of course, luxury yoga studios. While supply and demand would argue that increased yoga options would lower the price, this has not been the case. Instead, yoga studios continue to up the bar on luxury experiences to thrive in a competitive market. These over the top experiences are accompanied by a higher price tag.
In an Insider interview, the founder and CEO of the Association of Fitness Studios explained that higher prices are seen as an indicator of the experience purchased. If yoga studios price their classes high, potential customers will assume they'll receive superior instruction. Even if a studio is offering incredible classes, a lower rate may signal to customers that the product is not high quality. For many people, this is justification enough to spend a little more.
Instructors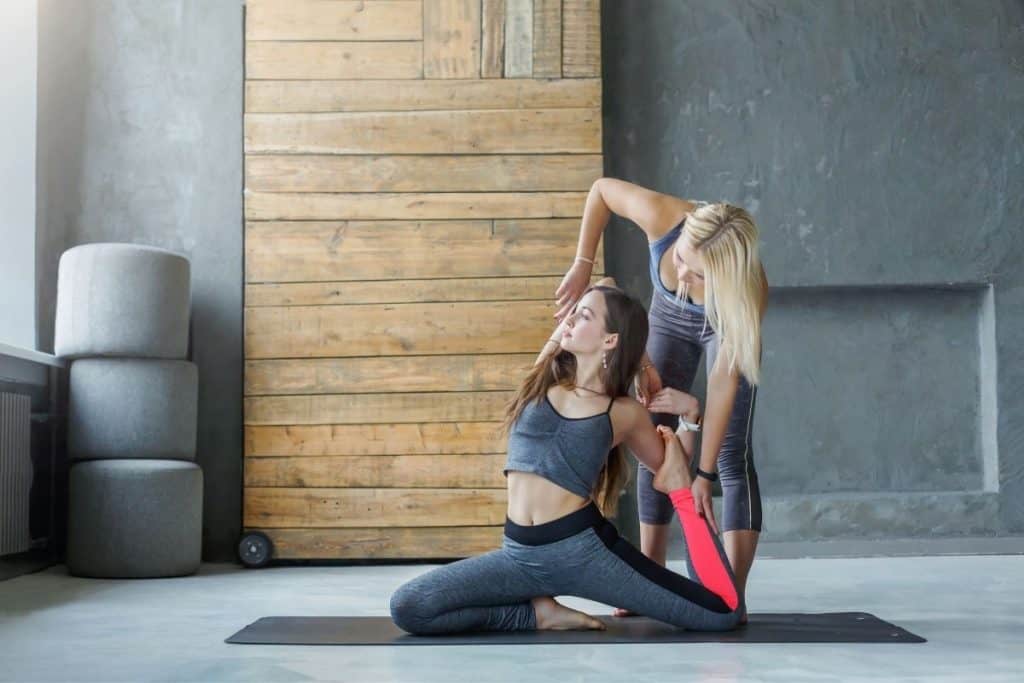 If you're looking for an exceptional yoga experience, you'll need an exceptional teacher. Serious yogis spend a lot of time and money perfecting their craft, investing in continuing education, qualifications, and more. Studios employing teachers with extensive experience and qualifications will need to pay them accordingly. The more experienced the instructor, the higher the cost of the class in order to pay the premium for top-tier instruction.
The Washington Post suggests that yoga teachers make roughly $40 to $100 a class, but this number can be much higher for specialty classes or exclusive studios. Class size is also a factor, as many studios try to keep classes as small as possible. While this allows for lots of personal instruction, it also means less people paying into the cost of instruction. Studios therefore raise the class price to cover the personalized experience of a small class.
Space
Any business owner will tell you that operating out of the right space is crucial to success. This is especially true for the yoga industry, which seeks to create calming, beautiful environments in which to practice. Travel and Leisure's list of best yoga studios features spaces with skylights, 15-foot ceilings, ocean views, zen gardens, 18th-century paintings, and more. Owners need to invest in great real estate in order to attract customers and turn a profit.
Yoga studios also have to price their classes to make up for the fact that they're not making money all day. Most people will attend classes before or after work, leaving long periods of time during the day with little to no money coming in. Prices also have to account for slower periods of the year when people aren't coming into the studio, like during the summer when everyone is traveling or around the holidays. Rent will still be due for the space, so prices must reflect this.
This is why many studios offer monthly membership fees. Instead of paying per class, you'll pay a flat fee each month that allows you to access unlimited classes. Studios use this method to discourage dabblers, as they'll receive money from customers even if they don't come in frequently. They'll also be able to spread earnings from busy months over to slower months.
Luxuries
In a competitive market, the little luxuries are often what leads customers to choose one yoga studio over another. Plush towels, luxury hand creams, and salon quality hair products come with a cost. Some studios also have in-house cafes or smoothie and juice bars. Even if you're paying for your refreshments out of pocket, these amenities require staff to run and clean up after. Paying for these employees also factors into the price tag of a yoga class.
Why Yoga Classes are Worth Investing In
Even though regular $20 yoga classes can quickly add up, many argue that the price is worth the feeling of peace they leave the studio with. While you can experience this blissed out feeling by practicing at home, there are certain perks that come with in person instruction.
You're More Likely to Work Out
If you invest in a monthly membership at a yoga studio, you're much more likely to actually work out than if you've decided to work out at home. Why? These fees serve as a huge incentive, explains Harvard Medical School, as you'll feel like you've wasted your money if you don't go. The fear of not getting your money's worth from your membership may be motivation enough to get out of bed on a cold morning.
You'll Prevent Injuries
Practicing yoga at a studio with an experienced teacher allows for personal interaction. Instructors will be able to correct your form, answer any questions you have, and ensure that you're not pushing yourself too hard. This is especially important if you're practicing an intense, aerobic form of yoga. Instructors will help you stay safe and show you ways to modify challenging moves according to your flexibility or pre-existing injuries.
You'll Get a Break
Although yoga offers a sense of calm no matter where you practice, it can be hard to disconnect if you're doing it in your living room. Going to a studio allows you to leave your busy day behind both physically and mentally. Instructors serve not only as guides for your breathing and poses, but also as motivators and confidants, explains Refinery29. You'll leave your class feeling recharged and ready to take on whatever else life throws at you.
Cheaper Alternatives to Yoga Classes
If you really cannot spare the extra money for yoga, you still have options. Yoga doesn't have to be expensive at all. In fact, the only equipment you'll need to invest in is a yoga mat. These range in price, but are usually not too expensive. This highly-rated affordable Balance From GoYoga All Purpose Mat is non-slick and comes with a carrying strap, so you can easily transport it to the park or other outdoor spaces.
It's actually pretty easy to find free yoga classes and tutorials, both online and even in person. Try these places for free options:
YouTube: YouTube is home to more yoga videos than you can imagine. Whether you're looking for yoga specifically for flexibility or meditation, there's a video for you. If you're new to yoga, check out this short home workout to get started:
Your Local Library: Many libraries not only have a collection of yoga DVDs you can check out, but also offer free in-person classes. You usually don't even have to have a library card, so check for classes in libraries in surrounding towns too.
Paid Online Fitness Sites: Many popular online fitness databases offer free 30 and 60 day trials. There are so many options, you can do a different trial every month. Just remember to cancel before you're billed.
Final Thoughts
While yoga can seem expensive, many factors go into the final price. To receive the best experience, it's usually worth it to invest in a class at a studio. It's still possible to receive many of yoga's benefits by practicing at home, however, so don't let the high price tag stop you from looking into this fantastic workout.
Sources
Sitasyoga.com is a participant in the Amazon Services LLC Associates Program, an affiliate advertising program designed to provide a means for sites to earn advertising fees by advertising and linking to Amazon.com. We also participate in other affiliate programs which compensate us for referring traffic.